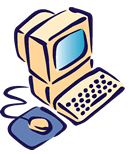 Looking to make your mark on the World Wide Web? Maybe you want your existing Web page to be more interactive. Maybe you'd like to send customized e-mails to your customers. Or you could simply want a thingamajig on your home page that will link to that really cool whatchamacallit.


Don't worry. No matter what your online needs — or how tech savvy you are — our award-winning Digital Media team can help.

"If clients are looking to reach their customers in new and innovative ways online, we can provide them with real digital solutions," says Chris Harris, Digital Media Team Manager. "Even if they aren't sure what they need to reach their goals, we have the creative expertise to make their ideas become a working reality."

With 19 awards from the Web Marketing Association under its belt, this four-member team works hand in hand with James Tower — an FM sister company that handles the complex programming, which brings these Web projects to life.

"We have all the creative and technical resources at our fingertips," Harris explains. "So clients can rest assured that we will deliver a complete package."

And just what can Digital Media do for your business? Here's just a sample:

NetLetterSM — This is an online version of a print newsletter. (You're reading one right now!) It can be adapted from an existing piece or customized with fresh content and graphics. Interactive tools and electronic response devices can also be added.

E-mail campaigns — Send personalized e-mails to welcome new customers, to deliver company information, to alert them that new content has been posted online or to extend special offers. These messages can contain links to drive them to your Web site.

NetSelectSM — Enhance your customers' online experience by providing them with a one-to-one site that greets them by name, the current date and a menu window with personalized topics.

E-Calendars — Communicate with customers year-round with an online calendar. You can customize months with special events or product information.

CD-ROMs — Cross sell your products and services with this powerful interactive tool. Create multimedia presentations that include music, voice-overs, animation and much more on a simple disc. With FM CD tracking, we can also tell you the number of times a CD has been played.

Website reporting — When First Marketing hosts a NetLetter or NetSelect site, we can track all customer activity from the moment of site entry to the point of exit. This information allows us to suggest modifications and future development.


And the best is yet to come

"This year alone, we are developing several new products that we're really excited about," Harris says. "And we are constantly working on new ways to wow our clients and reach their customers."