Consider the terms you hear on a regular basis in marketing conversations and publications today -- terms like: Relationship Marketing, Database Segmentation, Integrated Marketing, One-to-One and others. What these terms mean for today's marketers is a higher level of strategic planning, a variety of different approaches and, overall -- more work!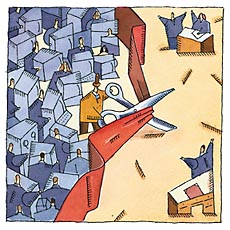 Strategic thinking
Now more than ever, just "putting your name out there" isn't enough. Meeting today's competitive challenges and consumer expectations involves specific, targeted strategies for each of your audiences.
Responding to greater demands on marketers, First Marketing Company has grown from our original mission as a provider of custom newsletters to what we are today -- an integrated communications provider dedicated to customer solutions.
Supporting this mission, our sales, creative and account management staffs restructured along dedicated industry lines. This evolution provides an opportunity to become more consultative, and better capable of being a true strategic partner. While we remain the "newsletter experts," our expanded knowledge of the markets and clients we serve allows us to offer total support for your ongoing customer communications.
Companywide, more than 230 staff members are refocusing their efforts to meet the changing needs, increasing demands and more difficult challenges faced by marketing departments today.
An expanded scope of products and services
What this means for our clients is that you can look to us for proactive, integrated communications solutions. A recurring newsletter is often the cornerstone of the program due to its proven effectiveness and multi-message format. However, you may want to support your program with strategic pieces that reinforce messages, narrow the target or enhance certain objectives. First Marketing Company will recommend innovative and cost-effective solutions that are tailored to your needs.
Incorporated into these solutions is our knowledge of what works. Drawing on 26 years' experience focusing on customer communications, our copy, graphics, formats and approaches are all designed to achieve results while also conveying the value you place on customer relationships.
And you thought you knew us . . .
With our expanded capabilities, you can rest assured that all of your needs will be met, all of your objectives addressed, and all of your customers satisfied, with messages that apply specifically to them!
And, remember, you're never committed to a "set package." We're aware that each client is unique, with different objectives and priorities. In fact, we've built our business on that knowledge. Your program can be as elaborate -- or as simple -- as you like. At any time, your account team can help you reanalyze your program, rethink your strategy and make any changes deemed necessary.
Best of all, we have the resources and methodology in place to prove the results of our programs. You may already be aware of our readership studies, designed to demonstrate the effectiveness of our custom publications. These comprehensive studies are ongoing, and any client can participate. So, if you want to know just how well your program is working, we'll develop and facilitate an independent study to answer your questions. We can even help you measure the impact of your brand awareness or customer satisfaction strategies.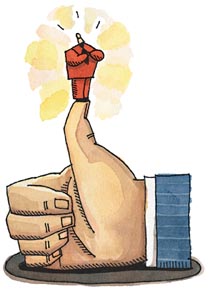 If you thought you knew First Marketing Company and what we're all about -- think again! The changes taking place within our company are big. We've rewritten our mission. Sharpened our focus. Restructured our staff. Forged new relationships. Intensified employee training. We're moving forward as a full-service provider of targeted, strategic communications programs that speak directly to the people most important to your business -- your customers!

FMC Resource Update
Responding to a frequent concern among clients about their Web sites "getting stale" with static information, First Marketing began to offer NetLettersSM in 1995. Regularly updating your entire Web site is a huge time commitment. NetLetters ensure that there is something new for repeat visitors.
Originally an online duplication of your First Marketing newsletter, NetLetters have evolved to include even more. The "Adaptation" NetLetter is an economical solution that mirrors your existing publication, but allows for interactivity such as electronic business reply cards, interactive games and other response devices. You can also receive regular text updates and archive directories.
Another unique product is our "Custom" NetLetter, which can stand alone as your Web site if you don't already have one. Rather than reiterate newsletter content, the Custom NetLetter features content and presentation developed exclusively for the Web, and reflects your existing site's look and style.
Susan L. Drenning,
Director of Strategic Development